North Fork Trails

---
There are many wonderful old trails leading down to the North Fork American, such as the Stevens Trail (from Colfax to Iowa Hill), the Blue Wing Trail (Roach Hill to Fords Bar), the Green Valley Trail, the Euchre Bar Trail, and others. One of my favorites is almost unknown: the Canyon Creek Trail, from the Gold Run Diggings, down Canyon Creek to the North Fork.
I am a member of a yet-informal group called North Fork Trails, comprised of people interested in preserving public access to historic trails in and around the North Fork American, and in performing maintenance and repair of these old trails, many of which date back to the Gold Rush. Contact me if you wish to be added to the North Fork Trails email list.
I will add information, maps, and pictures of these trails as time permits. Here are some pictures taken on and near the Canyon Creek Trail. This trail likely dates back to the Gold Rush, and was rebuilt, with many lateral trails during the time (1865-1882) when Canyon Creek was fitted with sluice boxes and undercurrents, extracting fine gold from the tailings of the Gold Run hydraulic mines. To see a gallery of Canyon Creek area ferns and wildflowers, go here. For a map of the Canyon Creek area, go here. One of the approaches to the Canyon Creek Trail is the famed (ha ha) Paleobotanist Trail, where some of the last petrified wood in the Gold Run Diggings may be found.
---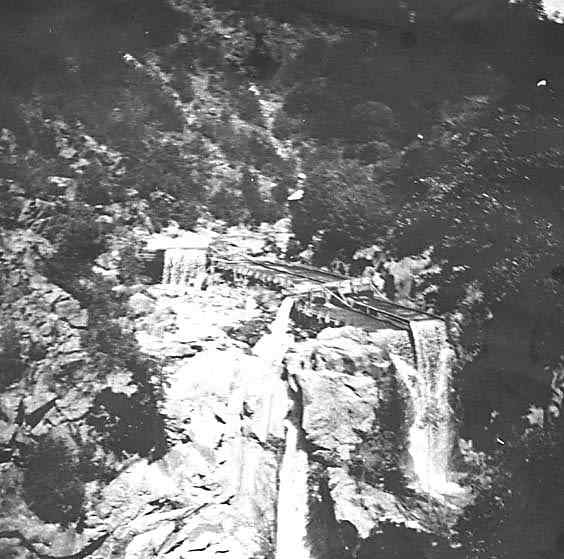 The uppermost of the large waterfalls, as it was in about 1875, with sluice boxes and undercurrents. This is a scan of a small smudged photo, in a scrapbook made by students of the Gold Run School in 1916. The broad sluice boxes on the right are undercurrents, specialized for recovery of fine gold. A bench was blasted out of solid rock to accomodate these undercurrents, as at many other places up and down the creek. Compare with photo below, taken March 10, 2001.
---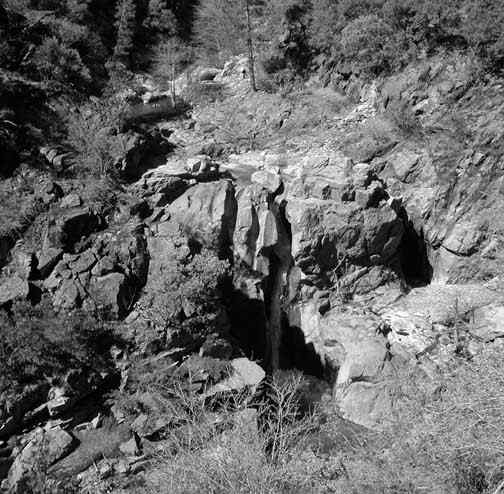 The upper falls, in March 2001.
---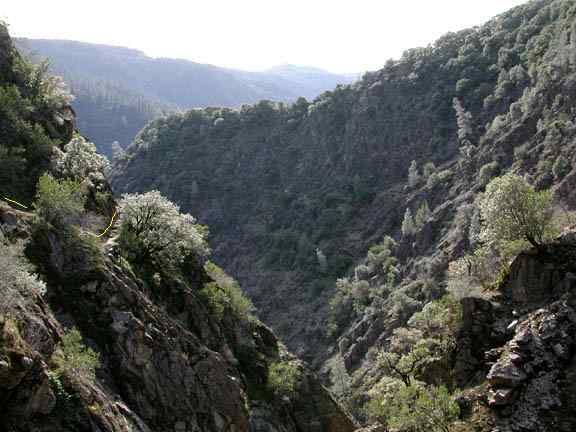 The trail, marked with yellow lines, as it passes the cliffs above the unusual inner gorge. The ridges making the skyline are Roach Hill (left) and Iowa Hill (right), on the far side of the North Fork American.
---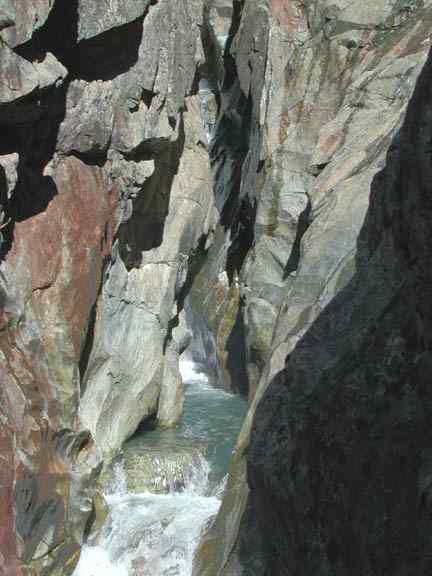 The inner gorge, in a relatively straight and level portion accessible by the perilous Six-Inch Trail, one of the many lateral trails leading in to the creek from the main trail.
---
A portion of the trail near Gorge Point, with the North Fork canyon in the distance.
---
The incredible cliffs beside the Big Waterfall, with their masses of overhanging rock. The rocks are metavolcanics of the late Paleozoic Calaveras Complex. The waterfall is aroound 150 feet high; just above the top of the fall is the inaccessible corkscrew section of the inner gorge. A well-made lateral trail gives access to the base of the Big Waterfall, from near The Terraces.
---
---
Back to North Fork American index page
Back to Russell Towle's homepage