The Dutch Flat Diary of Isaac Tibbetts Coffin

---
Isaac Tibbetts Coffin was born in New Hampshire in 1832, and after a difficult childhood which saw his father cast into debtor's prison, and young Isaac apprenticed to an evil uncle, he turned to cod fishing for a time, before coming to California in 1856. He mined for gold on the Middle Fork of the American River at first, then at Texas Hill in Placer County. In 1864 he moved to Dutch Flat, where he stayed until his death in 1903.
The only diary of any substance from the old days in Dutch Flat, that I have been able to find, is that of I.T. Coffin. Portions are missing, but from January 1, 1870, an almost uninterrupted sequence of diary entries continues into 1903. It is not the most wonderful of diaries, and Isaac almost never pauses to describe Dutch Flat, instead religiously recording the changes in the weather, and his endless Masonic and OddFellows lodge meetings. He was not only a fisherman and a gold miner, but a photographer, and he pasted photographs of his friends and acquaintances in Dutch Flat directly into the diary. The trials and travails of four marriages are recorded.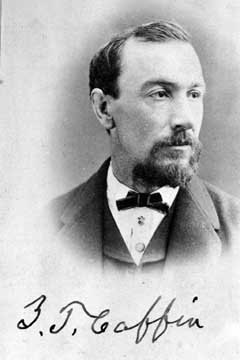 ---
Here is the top of the first page of the 1870-1886 volume of the diary. The volume was almost destroyed by fire in 1884, and suffered water damage at that time.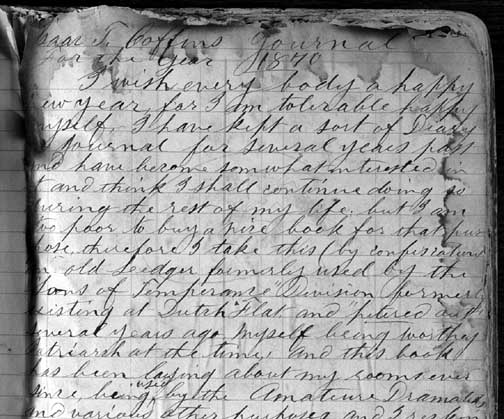 ---
The text above reads:
Isaac T. Coffins Journal for the year 1870
I wish everybody a happy New year, for I am tolerably happy myself. I have kept a sort of Diary Journal for several years past and have become somewhat interested in it and think I shall continue doing so during the rest of my life, but I am too poor to buy a nice book for the purpose, therefore I take this (by confiscation), an old ledger formerly used by the Sons of Temperance Division formerly existing at Dutch Flat and "petered out" several years ago, myself being Worthy Patriarch at the time, and this book has been laying about my rooms ever since, being used by the Amateur Dramatists, ...
---
Paper-bound and self-published, the Dutch Flat Diary of Isaac Tibbetts Coffin costs $25 and with an additional $5 shipping and handling, can be mailed first-class to destinations in the U.S. Email me for particulars.
---